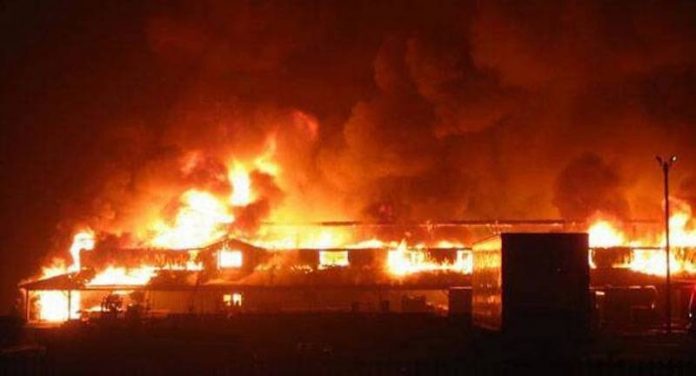 Ibrahim Shuaibu in Kano
Tragedy struck in Kano yesterday when fire burnt a family of six to death beyond recognition.
The incident, which occurred at Bawo road, Hausawa quarters in Kano metropolis, affected the head of the family, Mr. Isaiah Jonathan, his wife, his three children including a new born baby and the younger sister of the wife.
An eyewitness, who spoke with THISDAY privately, explained that the fire incident started from the sitting room and prevented the victims from coming out of the house.
He narrated how the incident occurred, noting that the residents woke up when they heard the deceased shouting calling for help before the fire gutted the entire house.
He said, "When we heard some noise at the early hours, we thought robbers have visited us. But when we came out, we saw fire which burnt some part of the house.
"It was difficult to put out the fire. We saw them trying to pull out the burglary proof. We could not find ladder to get there and rescue the victims," he said.
The Kano State Police Command confirmed the incident in a statement by its Public Relation Officer, Mr. Abdullahi Kiyawa, a Deputy Superintendent of Police..
Kiyawa said, "At about 0325hrs control room call and inform patrol team that there was fire incident at link 39 Bawo Rd Hausawa all the family of one Jonathan, his wife, three children and their maid all burnt to
ashes.
Kiyawa said the fire was put out with the help of men from Kano fire service, though the fire servicemen could not rescue any of the victims.