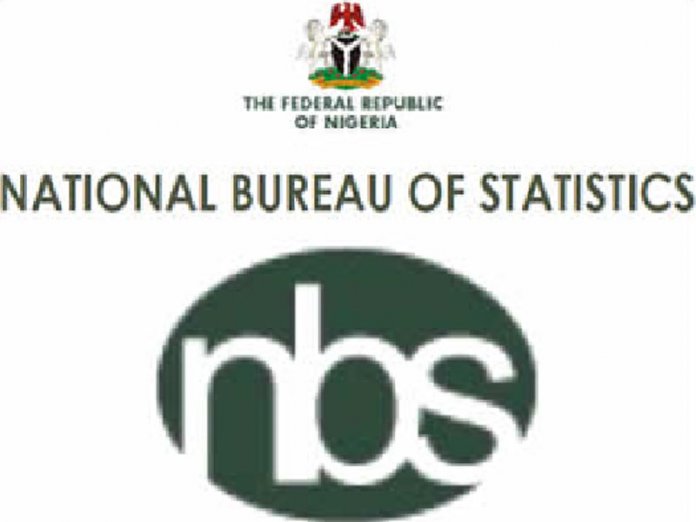 Business/ECONOMY
Though revenue, totaling N5.76 trillion, flowed into the coffers of the federal and state governments in 2018 from the federation account, more than the preceding year, the drive to grow revenue from independent sources by states recorded a drop, while debt remains a huge burden at N22.428 trillion, reports Bamidele Famoofo
Revenue shared by the federal government and the states in 2018 was put N5.76trillion, which represents an increase of N1.57trillion over N4.17trillion total revenue shared from the commonwealth of Africa's largest economy.
The amount drawn from the federation account and shared among both the federal and state governments in the fiscal year ended December 31, 2018 represented 67 per cent of funding for the N8.6 trillion budget for fiscal 2018.
Going by figures provided by the National Bureau of Statistics (NBS), the government at the centre got N3.19trillion representing over 55 per cent of the total amount shared. That amount represented about 50 per cent of funding for the 2018 budget. On the other hand, government at the state level which also includes the Federal Capital Territory (FCT) shared N2.57 trillion or 44.6 per cent of the lump sum.
Compared to disbursements made by the Federation Account Allocation Committee (FAAC) in 2017, total revenue in the review fiscal period recorded an increase of N1.57trillion or 38.13 percent from N4.17trillion in 2017 to N5.76trillion.
Breakdown of FAAC revenue sharing showed that the Federal government received about N810billion above the N2.38trillion in 2017. It represents a 34 percent revenue growth. The states got more in real terms with total revenue increasing to N2.57trillion in 2018 from N1.79trillion in 2017. It represented about 44 percent or N780billion boost in total revenue.
Revenue Components
There are four major sources from which the FAAC is financed. They are the statutory allocation purse, value added tax (VAT), NNPC refund and forex equalisation fund. Though the statutory allocation is a major contributor to the pool of fund shared by the FAAC, the forex equalisation fund made the most improved contribution to the pool in the review period with revenue increasing by 430 per cent from N24.24billion in 2017 to N128.41billion in 2018. Funds contributed from net statutory allocation to the pool increased from N2.12 trillion in 2017 to N2.8trillion as at end of December 31, 2018, representing an increase of 32.1 per cent while VAT contribution to the revenue purse moved up 12.7 per cent from N139.39 billion to N156.98billion in 2018. The growth in VAT contribution has been attributed to the renewed effort by government to drive revenue through taxation. Also, the revenue improvement in statutory allocation could be traced to improved oil price in the international market, which boosted government revenue in 2018.
Meanwhile, an appreciable decline was recorded in the NNPC refund to go the federal government in the review fiscal year with revenue dropping by 67.4 per cent from N32.74billion in 2017 to N10.66billion in 2018.
Disbursement
The month of May in 2018 recorded the biggest revenue growth when compared to the value distributed in the comparable period in 2017. Revenue shared by FAAC to both the federal and state governments increased by 82 per cent from N148.30billion in 2017 to about N270billion in 2018. On the top five charts, January recorded a growth of 66 per cent from N158.87billion in January 2017 to N262.92billion in the same period in 2018. With a 53 per cent increase in revenue in 2018 compared to 2017, the month of March was the third most favourable month for government as regards revenue growth while in June and August; revenue grew by 51 per cent and 50 per cent respectively. In June 2018, FAAC shared N263.04billion, a 51 percent rise over N174.34billion distributed among the three tiers of government in the same period in 2017 while the N266billion shared in August represented a 50 percent increase compared to N177billion in the period in the preceding year.
Meanwhile, the month of July was the month in 2018 when FAAC members shared the biggest revenue. Revenue distributed among members in the month stood at about N296billion, the largest chunk in the year.
Delta and Akwa Ibom States received the highest allocation of N213.63billion and N202.37billion respectively in 2018 while Osun and Cross River States received the least allocation of N22.84billion and N36.95billion.
Summary of 2017 distribution showed that the Federation Account Allocation Committee disbursed the sum of N2.38trillion to the Federal Government of Nigeria in 2017 while states received a total of N1.79trillion within the period under review.
The amount disbursed to the FGN comprised of N2.12trillion as Gross Statutory Allocation, N139.39billion as Valued Added Tax (VAT), N32.74billion as NNPC refund to FG and the distribution of N24.24billion from the Forex equalisation fund.
In like manner, Akwa Ibom and Rivers States received the highest allocation of N143.61billion and N119.63billion respectively in 2017 while Osun and Cross River States received the least allocation of N10.44billion and N23.45billion.
2019
Fiscal 2019 looks promising for government as FAAC disbursed the sum of N649.19billion to the three tiers of government in January 2019 from the revenue generated in December 2018.
The amount disbursed comprised of N547.46billion from the statutory account, N100.76billion from VAT and N976.53million exchange gain differences.
"Federal government received a total of N270.17billion from the N649.19billion. States received a total of N178.04billion and local governments received N133.83billion. The sum of N45.36billion was shared among the oil producing states as 13per cent derivation fund," statistics from NBS showed.
Revenue generating agencies such as Nigeria Customs Service (NCS), Federal Inland Revenue Service (FIRS) and Department of Petroleum Resources (DPR) received N4.69billion, N4.04billion and N8.04billion respectively as cost of revenue collections.
Further breakdown of revenue allocation distribution to the Federal Government of Nigeria (FGN) revealed that the sum of N216.57billion was disbursed to the FGN consolidated revenue account; N4.81billion shared as share of derivation and ecology; N2.43billion as stabilisation fund; N8.15billion for the development of natural resources; and N5.82billion to the Federal Capital Territory (FCT) Abuja.
IGR
Statistics provided by NBS suggests that while distributable revenue from the federation account increased in 2018, efforts by government at the state level may not be doing enough to boost revenue from internal sources as Internally Generated Revenue (IGR) as at third quarter in 2018 recorded a decline.
"The Q3 2018 states and FCT IGR figure hits N264.38billion compared to N279.78billion recorded in half year 2018. This indicates a negative growth of -5.08 percent quarter on quarter."
Meanwhile, 17 states recorded growth in IGR while 20 states recorded decline in IGR quarter on quarter at the end of Q3 2018.
Meanwhile, full year 2017 state IGR figure stood at N936.47billion compared to N823.16billion recorded in year 2016. This indicates a growth of 13.77percent year on year. At the end of half year 2017, total revenue generated by states was put at N453.83billion as against N482.64billion in half year 2016.
Debt
Data from the Debt Management Office revealed that Nigeria's total public debt stock stood at N22.428 trillion in 2018, having risen from N21.725 billion it ended 2017. According to DMO, the value of foreign debt stock was $21.591billion (N6.614 trillion) while domestic debt hit N15.814 trillion at the end of 2018, compared to the positions at the end of 2017, when foreign debt stock was $18.913 billion (N5.787 trillion) and domestic debt stood at N15.937 trillion.
Threat
There are assurances that Nigeria will sustain its current revenue level from oil, going by the plan by OPEC to cut oil production according to a statement recently credited to President Muhammadu Buhari.
Buhari spoke in Abuja when he received the Special Envoy of King Salman Bin Abdulaziz, Minister of State for African Affairs of the Kingdom of Saudi Arabia at the State House. A statement by the Senior Special Assistant to the President on Media and Publicity, Mr. Garba Shehu, quoted Buhari as saying that, "As a responsible member of the Organisation of Petroleum Exporting Countries (OPEC), Nigeria was willing to go along with the Saudi initiative in limiting output so that prices would go up." The statement said the president wished that there was no need for cut because of Nigeria's large population and the need to secure more money, stating, "I wish we can produce more." However, he assured the envoy of Nigeria's support for the initiative, saying, "I have listened carefully to the message. I will speak with the minister of state for petroleum. I will call for the latest production figures. I know that, it is in our interest to listen. We will cooperate."