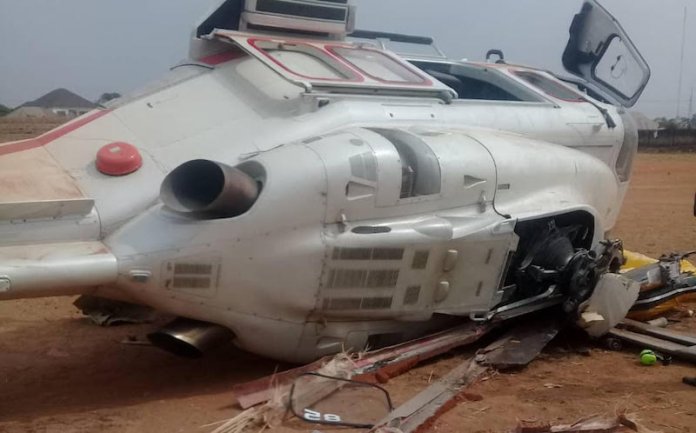 Yekini Jimoh in Lokoja
A helicopter conveying Vice President Yemi Osinbajo to a campaign rally in Kogi State has crash landed in Kabba.
Laolu Akande, the vice President's spokesman, who disclosed this in a tweet, said the vice president and all the other occupants of the helicopter were safe.
"VP Osinbajo's Chopper crash lands in Kabba, but he and the entire crew safe. He is continuing with his engagements and plans for the day in Kogi State," Akande tweeted from his official twitter hande @akandeoj.
Akande later issued a statement explaining that the vice president's "chopper crash landed after a landing incident."
He added that "Prof. Osinbajo now in Kabba after the incident and continuing his engagements in the state, engaging the people on the Next Level plan of the Buhari administration".
The Vice President who was in the state for the Trader Moni programme in Okene, Kabba and Idah arrived the ancient town of Kabba at about 2pm with other eminent personalities on board the chopper.
According to an eyewitness, the vice president's helicopter crash landed when it was about to land in the township stadium.
The eyewitness said the chopper managed to land at about 2.22pm at the township stadium before the rotor blade of the helicopter suddenly detached from the rotor mast to the surprise of party faithful who had gathered to welcome the vice president.
Although, the cause of the crash was not immediately known, it was gathered that the pilot of the helicopter might have found it difficult to land due to poor visibility caused by dust at the stadium.
It took the effort of the security agents to rescue the vice president and other people on board. Osinbajo was immediately whisked off to the palace of Obaro of Kabba, where he paid a courtesy call.
He later addressed some party supporters at St Augustine College.
Today's helicopter crash occurred eight months after a chopper conveying the Vice President from the Nigeria Customs Command and Staff College, Gwagwalada in Abuja, was forced to land few seconds after take off. In the June 2018 incident, the Vice President's chopper was stalled while taking off, emitted thick smoke and then landed on the same spot. Osinbajo who had gone to the school for the graduation ceremony of Senior Division Course 1/2018 participants later left the college by road.