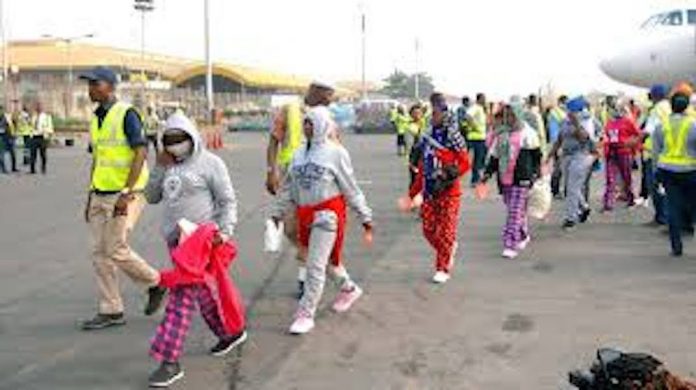 • Air Peace flight makes Air return over incident
By Chinedu Eze
Another batch of 149 Nigerians were yesterday flown back to the country through the Murtala Muhammed International Airport (MMIA), Lagos, just as Nigeria's major carrier flight made air return over presurisation incident.
The Nigerians returned aboard Buraq Airlines' Boeing 737-8000 with registration number 5A-DMG at about 1:20a.m. on Friday at the Cargo Wing of the airport.
The profile of the returnees showed that adult females are 56, one female child and 2 female infants while adult men are 81, with 2 male children and 8 male infants.
Though, all the returnees were those living in Tripoli, the country's capital City, many of them confessed that they didn't suffer the ordeals of those who stayed outside the capital city but regretted venturing into such unreasonable and destructive journey.
One of the returnees, Aminat Sunday, 29, from Ifo Local Government of Ogun State, regretted the journey and said that if she had known she would not have travelled but because of much burdens of siblings, her children and persuasion by her trafficker.
She said she didn't pay her trafficker before leaving but paid her with a year's salary, after she arrived Libya.
"I got a fair job as housemaid but the work made me to come home because it is very stressful, tiring and have serious health problems on my body," she said.
Aminat explained, "Libyans have houses that have large compounds
In Libya, their houses have large compounds and all of them have tiles. As maid after cleaning the main house, I have to scrub the whole tiled floors and fence every day with a salary of an average of N50, 000.00.
She said she was disappointed that she could not achieve the objective to raise enough money for the upkeep of her family.
"There is no banking system over there and there is no way money could be remitted back to Nigeria except through Nigerians who have banks in Nigeria. You pay them $5,000 dollars only $2,500 dollars will be given to the dependants.
"I actually regretted embarking on the journey but thank Almighty God and IOM for bringing me safely home," she said.
Meanwhile, Air Peace yesterday confirmed that its Lagos-Owerri Flight 7252 on Thursday returned to base after its crew observed that there was a change in cabin pressure.
"In line with our standard operating procedure, the captain-in-command descended to a level where it would be comfortable for our valued guests, before making a return to base in line with global best practices in the aviation industry," spokesman of the airline, Chris Iwarah said.
Iwarah said after the aircraft safely landed in Lagos, passengers on board, who had remained calm, were quickly transferred to an alternate aircraft and flown to Owerri.
"We regret the inconvenience and discomfort caused our esteemed guests on board the flight. We wish to assure members of the public that the incident had nothing whatsoever to do with the engines of the aircraft nor was it a life-threatening situation.
"The aircraft has since been thoroughly checked and confirmed serviceable. The aircraft went back into operations in less than an hour after going for maintenance checks. Air Peace is renowned for its quality maintenance reputation and we assure members of the flying public that we will continue to sustain the high standards of our flight operations and professionalism to guarantee the safety of our valued guests and crew," Iwarah also said.