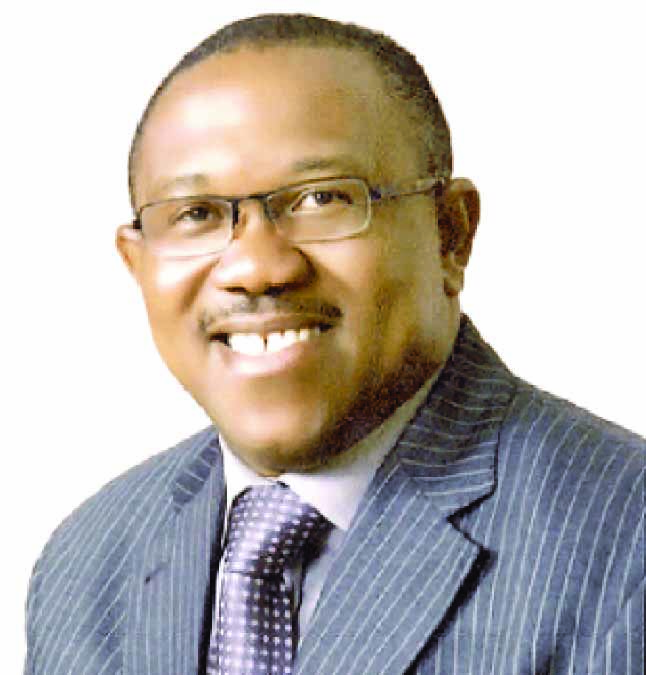 Benjamin Nworie in Abakaliki
Vice presidential candidate of the Peoples Democratic Party (PDP), Mr. Peter Obi has said that his nomination as the running mate to the presidential candidate of the party, Alhaji Atiku Abubakar, was an act of God and a mystery to him.
The former governor of Anambra State also confirmed that Igbo leaders as well as governors of the zone never disagreed on his nomination but disagreed with the process.
Obi who visited Governor David Umahi in the Government House Abakaliki, Ebonyi State, yesterday, said he was in the state to intimate the people about his nomination as the Vice Presidential candidate of PDP in the forth coming general election and to solicit their support.
Obi said he also came to solicit the support of the Governor of Ebonyi State and commended the governor for his developmental strides since he assumed office.
"Umahi is our leader, he is a man of impeccable character, he was at the centre of the storm but I want to tell the people that Umahi and Igbo leaders were misrepresented badly. Igbo leaders never disagreed with my nomination as VP candidate but disagreed with the process but I am here to solicit for your support ", he said.
He lamented the mismanagement of the country by the present administration.
"PDP as a party is desirous of returning to power at the centre not just because we want to return to power but because we have seen that in our country, Nigeria, every indices of development today is heading south and we cannot continue that way in terms of borrowing and all other indices everything is heading south. So, PDP wants to come back and continue rebuilding the nation", Obi added.
Reacting, Governor Umahi commended the former governor for his humility and described him as an asset to the country and the PDP.
He said the state is completely with Peter Obi and Atiku ticket.
He noted that the zone will still meet with the Presidential candidate of the party, Atiku Abubakar to discuss his plans for the region.
'I have every reason to be happy very with you. There is no way even if I was nominated I will be the Vice Presidential candidate. I still have more than four years as a governor. Secondly, we have always supported ourselves. During my campaign, you came and even gave us vehicles"
"A lot of people have understood that there is nobody that is against our son; nobody has anything against you and that's why everywhere you go the South- east governors will roll out their drums. But no governor in the South-east will say the process, I approve of it and he(Obi) didn't approve of it. He told me, 'look if I were in your position, I will be more angry and that is an honest man who understands what his people are saying".
"And so sir, you have done very well because what you did is to save the party. I feel that all these noise they are making is marketing the party, you have saved the party and I want you to keep on explaining to those who didn't understand so that they can understand".
"With this, the presidential candidate has said look I am coming to the South-east to discuss with you. We South-east people have never gone into presidential election with negotiation, nobody has thought of that. This is the only opportunity we are going to have to ask the presidential candidate what is it that you are going give us"
"Probably, if we didn't raise eyebrow about that, we would have probably gone into the victory and we now begin to say we are now marginalised. I will never repent on that that which is going to come to South-east, when we see what is going to come to South-east, we will sit down and ask what Ebonyi will get. We have close to 1.5 million votes but we are working to deliver 1.3 votes, that's the fact and with that we will be saying what is coming to south east and what is it that will come to us, this is very important".
"I am a straight forward person. If we are giving support to PDP, we are giving support to PDP and there is no doubt about that. We are PDP, no more no less. Sir, we will give you the support but we must see our presidential candidate to discuss with us what he has for south east and Ebonyi".