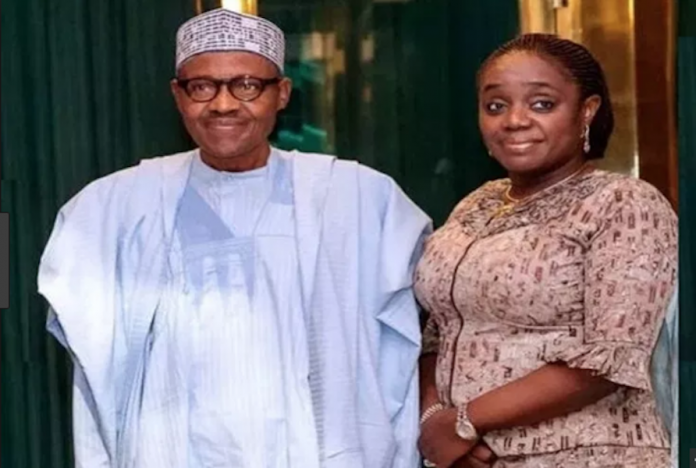 I wish her well in her future pursuits
Minister:  I didn't know my NYSC certificate was fake
Unease in S'west over Zainab Ahmed's choice to oversee ministry
By Ndubuisi Francis and Omololu Ogunmade in Abuja, Bennett Oghifo and Elizabeth Oluwasegun in Lagos
President Muhammadu Buhari, yesterday, accepted the resignation of the Minister of Finance, Mrs. Kemi Adeosun, ending rumours that she actually resigned for allegedly presenting a fake certificate of exemption from the mandatory National Youth Service.
Special Adviser, Media, to the president, Mr. Femi Adesina confirmed this development in a statement released last night. Her resignation was earlier denied by the presidency and officials of her ministry.
Adesina said President Buhari accepted Mrs Adeosun's letter of resignation and wished her well in her future pursuits, adding that the president appointed the Minister of State for Budget and National Planning, Mrs. Zainab Ahmed to preside at the finance ministry.
However, President Buhari's choice of Mrs. Ahmed is causing disquiet in the South-west where most people believe the next minister of finance should be picked from to replace Adeosun, who is from that geopolitical zone.
Explaining her resignation, Adeosun, in her resignation letter dated 14th September, 2018, stated: "I have, today, become privy to the findings of the investigation into the allegation made in an online medium that the Certificate of Exemption from National Youth Service Corp (NYSC) that I had presented was not genuine. This has come as a shock to me and I believe that in line with this administration's focus on integrity, I must do the honourable thing and resign."
Adeosun outlined some of the background to this matter, stating, "I was born and raised in the United Kingdom, indeed my parental family home remains in London. My visits to Nigeria up until the age of thirty-four (34) were holidays, with visas obtained in my UK passport.  I obtained my first Nigerian passport at the age of thirty-four (34) and when I relocated there was debate as to whether NYSC Law applied to me. Upon enquiry as to my status relating to NYSC, I was informed that due to my residency history and having exceeded the age of thirty (30), I was exempted from the requirement to serve. Until recent events, that remained my understanding.
"On the basis of that advice and with the guidance and assistance of those, I thought were trusted associates, NYSC were approached for documentary proof of status. I then received the certificate in question. Having never worked in NYSC, visited the premises, been privy to nor familiar with their operations, I had no reason to suspect that the certificate was anything but genuine. Indeed, I presented that certificate at the 2011 Ogun State House of Assembly and in 2015 for Directorate of State Services (DSS) Clearance, as well as to the National Assembly for screening. Be that as it may, as someone totally committed to a culture of probity and accountability, I have decided to resign with effect from Friday, 14th September, 2018."
She said it had been an exceptional privilege to have served the nation under President Buhari's leadership and to have played a role in steering the nation's economy at a very challenging time. "I am proud that Nigeria has brought discipline into its finances, has identified and is pursuing a path to long term sustainable growth that will unlock the potential in this great economy. "Under your leadership, Nigeria was able to exit recession and has now started to lay the foundations for lasting growth and wealth creation. Repositioning this huge economy is not a short term task and there are no short cuts, indeed there are tough decisions still to be made but I have no doubt that your focus on infrastructural investment, revenue mobilisation and value for money in public expenditure will deliver growth, wealth and opportunity for all Nigerians."
She thanked Vice President Yemi Osinbajo and her colleagues in the Federal Executive Council for the huge pleasure and honour of working with them. I also thank most specially, the team in the 'Finance Family' of advisers and heads of agencies under the Ministry of Finance.
Her letter of resignation and the acceptance by the president puts to rest rumour that was denied by the Special Assistant to President Muhammadu Buhari on Media and Publicity, Garba Shehu, who said there was no such information to suggest that the rumour was true and urged Nigerians to disregard it.
Reacting prior to the confirmation of the minister's resignation, Human Rights Writers Association of Nigeria, (HURIWA) in a statement by its Executive Director, Emmanuel Onwubiko, had asked the government to prosecute Adeosun as resignation was not enough to cover the alleged offence of forgery.
Meanwhile, the appointment of Mrs. Ahmed is seen as an attempt to cheat the South-west by preventing them from producing a replacement for Adeosun. "We urge him to understand and respond to our anxiety," some key South-west politicians who pleaded for anonymity told THISDAY last night.
As finance minister, Adeosun was perceived to have hurt some powerful forces through her actions.
For instance, she allegedly refused to approve the payment of $16.9 million fees to two lawyers appointed by the Attorney General of the Federation and Minister of Justice, Abubakar Malami, for the recovery of Abacha loot worth $322 million.
The recovered sum had been repatriated to Nigeria by the Swiss government following the execution of the memorandum of understanding (MoU) between the two countries for the judicious use of the recovery.
Adeosun also took on the former director general of the Securities and Exchange Commission (SEC), Mounir Gwarzo who was later dismissed and currently on trial for alleged corruption.
The introduction of the Voluntary Assets and Income Scheme (VAIDS) also earned her some enemies.