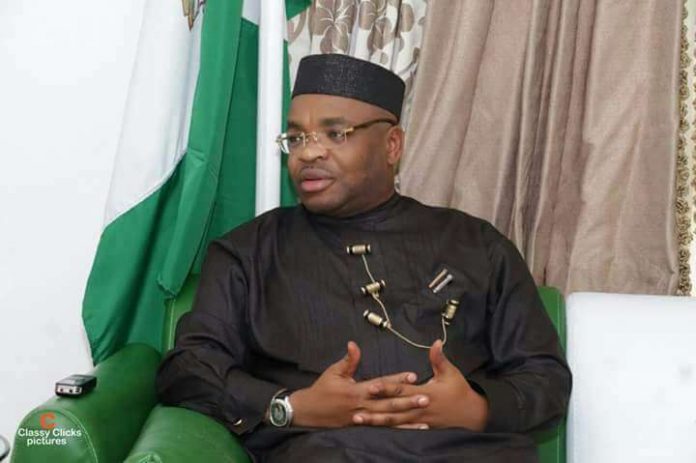 Okon Bassey in Uyo
The Akwa Ibom State Chapter of the Peoples Democratic Party (PDP) has revealed that so far, only the incumbent Governor of the State, Mr. Udom Emmanuel, from Eket Senatorial District, has picked the party nomination form for the 2019 governorship race.
This is even as the party called on aspirants to adhere to the zoning principle in order to reduce political tension and conflict ahead of the party primaries and the general elections.
The Publicity Secretary, Ini Ememobong, disclosed this during a media chat in Uyo yes. He expressed satisfaction with the on-going purchase of the party's nomination forms which he noted was along the zoning arrangement of the party stressing that it has really stopped unnecessary expenditure and pressure on the aspirants.
Emmemobong added that the zoning arrangement which was achieved through state wide sensitisation programmes has readjusted the mind set of members of the party why the issue of drumming war songs was no more in the PDP.
"PDP secretariat has been a beehive of activities within this past weeks, lots of people have indicated interest and actually purchased the forms, our prices are the most reasonable in the political market.
"For women, it's just the expression of interest; the nomination form is free, only the incumbent has purchased form for governorship.
"People come into politics without preparing that the answer can either be yes or no, that's why we keep asking those not favoured by zoning to avoid spending money; and some aspirants do not even know how to interact with the electorate. That is why we keep sensitising our members to avoid this." he declared
The image maker said the party is determined to win the support of the people through hard work and convincing proof of competence instead of threat and intimidation as been planned by the opposition.
He added that the party held stakeholders meetings in the 329 wards across the state and carried out sensitisation in the 10 federal constituencies.
According to him, the PDP is currently running not less than five radio programmes, and using the platforms to sensitise and give seed funds to aid small and medium scale business owners, in addition to trainings in various trades and vocations.
"We have been holding series of meetings to prepare the ground to ensure free, fair, peaceful and credible elections. In the area of touching lives, we are currently running four to five programmes on radio sensitising and giving out monies for people to start small businesses, we give out as much as N250,000 toN500,000.