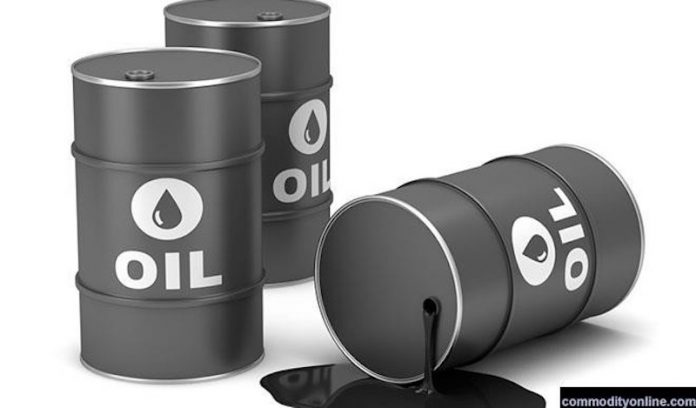 Ejiofor Alike with agency reports
The price of the global benchmark, Brent oil rose yesterday to $76 per barrel even as global output continued to rise while a trade dispute between the United States and China capped gains.
Both the international Brent crude oil futures and the United States West Texas Intermediate (WTI) gained $1 to hit $76.04 per barrel, and $68.85 per barrel, respectively.
However, Reuters reported that trading activity was limited due to a public holiday in Britain.
The US and China have been locked in a trade battle for months, a dispute that threatens to curb economic activity in both countries.
China said it was retaliating against US tariffs by slapping additional import duties of 25 per cent on $16 billion worth of US goods, including oil and diesel.
Chinese oil importers were said to be shying away from buying US crude oil as they fear Beijing may decide to add the commodity to its tariff list.
The trade dispute has rattled global markets on fears it could lead to a slowdown of the world's largest economies and result in a lower demand for commodities.
Shipments into the world's biggest importer of crude came in at 36.02 million tonnes last month, or 8.48 million barrels per day, rising from 8.18 million bpd a year earlier and just up on June's 8.36 million bpd.
Also, investors were watching the impact of US sanctions on Tehran, which analysts say could remove as much as one million barrels per day of Iranian crude from the market by next year.
Iran has exported around 2.5 million barrels per day of crude oil so far this year and most analysts expect this figure to fall by at least 1 million bpd.
The prospect of a drop in oil exports from Iran, the third-largest producer in the Organisation of the Petroleum Exporting Countries (OPEC), in response to new US sanctions was also supporting the global oil market.
European oil companies have started to cut back on Iranian purchases, although Chinese buyers are shifting their cargoes to Iranian-owned vessels to keep supplies flowing.
Iran has warned that it would hit US and Israeli targets if it were attacked by the US after President Donald Trump's security adviser said Washington would exert maximum pressure on Tehran going beyond economic sanctions.
Meanwhile, OPEC has started to boost supplies following a deal with Russia and other allies in June, although producers have been cautious so far.
OPEC had on November 27, 2015, decided to pump as much as it could to defend market share, an action that sent the price of oil to a low of $27 per barrel in February 2016.
Following the drop in oil price to an all-time low, OPEC and other major producers, including Russia started to withhold output in 2017 to rein in oversupply that had depressed prices since 2014.
OPEC's main objective for the cuts is to eliminate a global surplus in oil stocks and re-balance the market.
However, the cartel and its allies agreed last month to boost supply after President Trump urged the producers to offset losses caused by his country's new sanctions on Iran and to dampen prices.
On June 22-23, OPEC, Russia and other non-members agreed to return to 100 per cent compliance with oil output cuts that began in January 2017, after months of underproduction in Venezuela and elsewhere pushed adherence above 160 per cent.
Saudi Arabia said the decision would translate into an output rise of about one million bpd.
Oil price had hit $80 per barrel earlier this year, the first time since 2014.